Datasheet MAX5527, MAX5528, MAX5529 (Maxim)
Fabricante
Maxim
Descripción
64-Tap, One-Time Programmable, Linear-Taper Digital Potentiometers
Páginas / Página
12

/

1

— EVALUATION KIT. AVAILABLE. One-Time Programmable, Linear-Taper Digital. …

Formato / tamaño de archivo
PDF

/

223 Kb
Idioma del documento
inglés
EVALUATION KIT. AVAILABLE. One-Time Programmable, Linear-Taper Digital. Potentiometers. MAX5527/MAX5528/MAX5529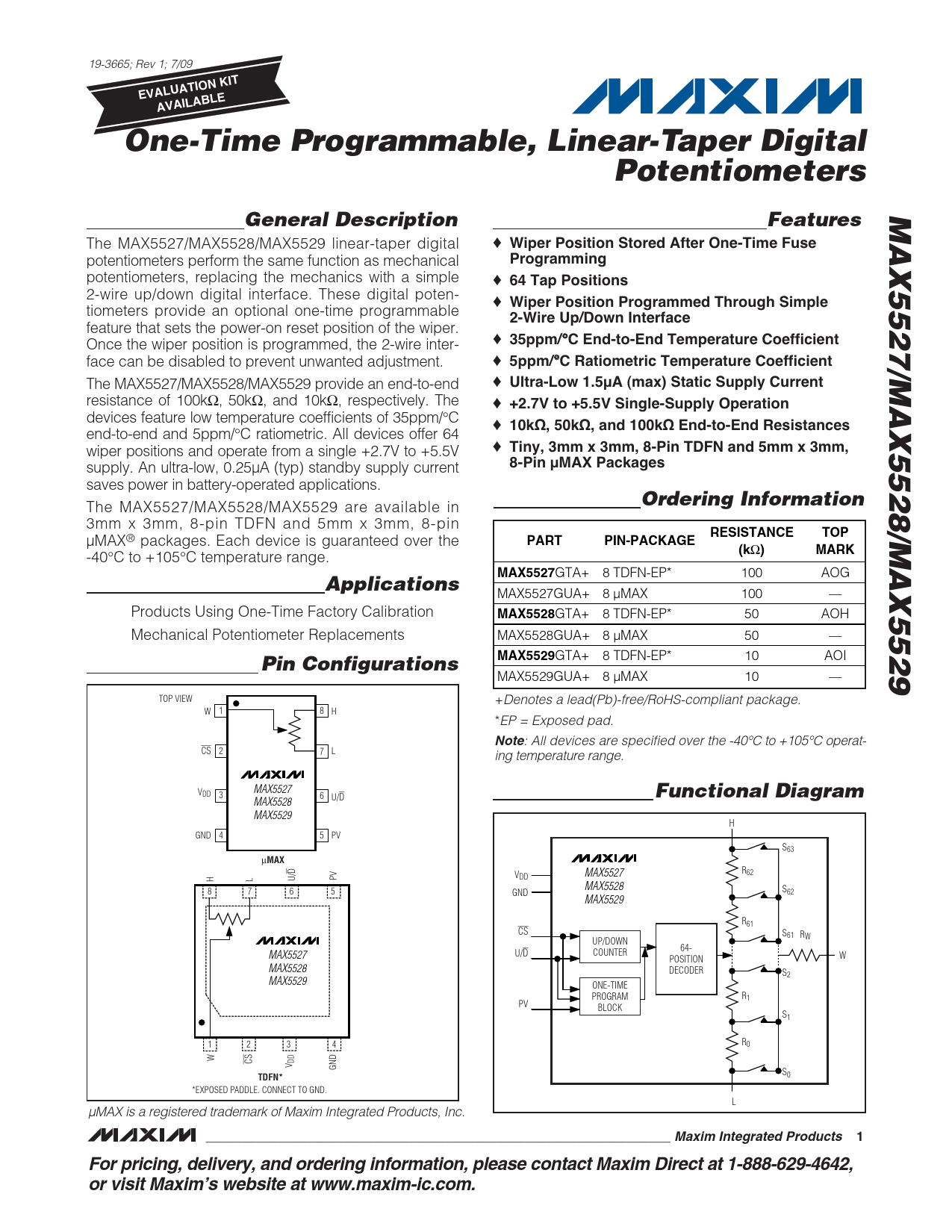 Línea de modelo para esta hoja de datos
Versión de texto del documento
19-3665; Rev 1; 7/09
EVALUATION KIT AVAILABLE One-Time Programmable, Linear-Taper Digital Potentiometers MAX5527/MAX5528/MAX5529 General Description Features
The MAX5527/MAX5528/MAX5529 linear-taper digital o
Wiper Position Stored After One-Time Fuse
potentiometers perform the same function as mechanical
Programming
potentiometers, replacing the mechanics with a simple o
64 Tap Positions
2-wire up/down digital interface. These digital poten- o
Wiper Position Programmed Through Simple
tiometers provide an optional one-time programmable
2-Wire Up/Down Interface
feature that sets the power-on reset position of the wiper. Once the wiper position is programmed, the 2-wire inter- o
35ppm/°C End-to-End Temperature Coefficient
face can be disabled to prevent unwanted adjustment. o
5ppm/°C Ratiometric Temperature Coefficient
The MAX5527/MAX5528/MAX5529 provide an end-to-end o
Ultra-Low 1.5µA (max) Static Supply Current
resistance of 100kΩ, 50kΩ, and 10kΩ, respectively. The o
+2.7V to +5.5V Single-Supply Operation
devices feature low temperature coefficients of 35ppm/°C o
10kΩ, 50kΩ, and 100kΩ End-to-End Resistances
end-to-end and 5ppm/°C ratiometric. All devices offer 64 wiper positions and operate from a single +2.7V to +5.5V o
Tiny, 3mm x 3mm, 8-Pin TDFN and 5mm x 3mm,
supply. An ultra-low, 0.25µA (typ) standby supply current
8-Pin µMAX Packages
saves power in battery-operated applications.
Ordering Information
The MAX5527/MAX5528/MAX5529 are available in 3mm x 3mm, 8-pin TDFN and 5mm x 3mm, 8-pin
RESISTANCE TOP
µMAX® packages. Each device is guaranteed over the
PART PIN-PACKAGE (k
Ω
) MARK
-40°C to +105°C temperature range.
MAX5527
GTA+ 8 TDFN-EP* 100 AOG
Applications
MAX5527GUA+ 8 µMAX 100 — Products Using One-Time Factory Calibration
MAX5528
GTA+ 8 TDFN-EP* 50 AOH Mechanical Potentiometer Replacements MAX5528GUA+ 8 µMAX 50 —
MAX5529
GTA+ 8 TDFN-EP* 10 AOI
Pin Configurations
MAX5529GUA+ 8 µMAX 10 — TOP VIEW +Denotes a lead(Pb)-free/RoHS-compliant package. W 1 8 H *EP = Exposed pad.
Note
: All devices are specified over the -40°C to +105°C operat- CS 2 7 L ing temperature range. V MAX5527 DD 3 6
Functional Diagram
U/D MAX5528 MAX5529 H GND 4 5 PV S63 µ
MAX
D R V MAX5527 62 H L U/ PV DD MAX5528 8 7 6 5 GND S62 MAX5529 R61 CS S61 RW UP/DOWN 64- MAX5527 U/D COUNTER POSITION W MAX5528 DECODER S2 MAX5529 ONE-TIME PROGRAM R1 PV BLOCK S1 1 2 3 4 R0 W CS V DD GND S
TDFN*
0 *EXPOSED PADDLE. CONNECT TO GND. L µMAX is a registered trademark of Maxim Integrated Products, Inc.
________________________________________________________________ Maxim Integrated Products 1 For pricing, delivery, and ordering information, please contact Maxim Direct at 1-888-629-4642, or visit Maxim's website at www.maxim-ic.com.