Datasheet EL2003 (Elantec)
Fabricante
Elantec
Descripción
100MHz Video Line Driver
Páginas / Página
12

/

1

— EL2003, EL2033. OBSOLETE PRODUCT. NO RECOMMENDED REPLACEMENT. Data Sheet. …

Formato / tamaño de archivo
PDF

/

384 Kb
Idioma del documento
inglés
EL2003, EL2033. OBSOLETE PRODUCT. NO RECOMMENDED REPLACEMENT. Data Sheet. September 1998, Rev. F. FN7022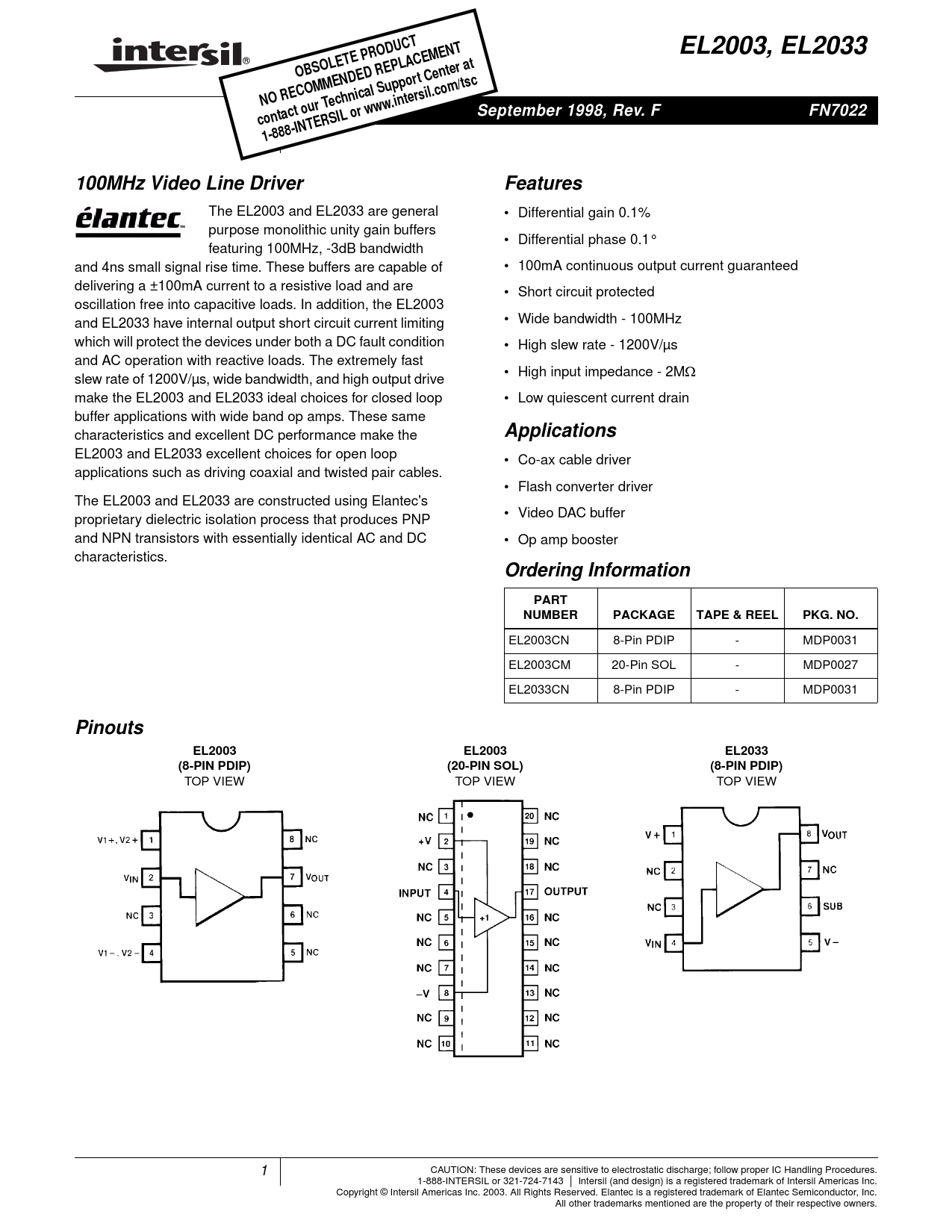 Línea de modelo para esta hoja de datos
Versión de texto del documento
EL2003, EL2033
®
OBSOLETE PRODUCT NO RECOMMENDED REPLACEMENT Data Sheet September 1998, Rev. F FN7022 contact our Technical Support Center at 1-888-INTERSIL or www.intersil.com/tsc 100MHz Video Line Driver Features
The EL2003 and EL2033 are general • Differential gain 0.1% purpose monolithic unity gain buffers • Differential phase 0.1° featuring 100MHz, -3dB bandwidth and 4ns small signal rise time. These buffers are capable of • 100mA continuous output current guaranteed delivering a ±100mA current to a resistive load and are • Short circuit protected oscillation free into capacitive loads. In addition, the EL2003 and EL2033 have internal output short circuit current limiting • Wide bandwidth - 100MHz which will protect the devices under both a DC fault condition • High slew rate - 1200V/µs and AC operation with reactive loads. The extremely fast • High input impedance - 2MΩ slew rate of 1200V/µs, wide bandwidth, and high output drive make the EL2003 and EL2033 ideal choices for closed loop • Low quiescent current drain buffer applications with wide band op amps. These same characteristics and excellent DC performance make the
Applications
EL2003 and EL2033 excellent choices for open loop • Co-ax cable driver applications such as driving coaxial and twisted pair cables. • Flash converter driver The EL2003 and EL2033 are constructed using Elantec's proprietary dielectric isolation process that produces PNP • Video DAC buffer and NPN transistors with essentially identical AC and DC • Op amp booster characteristics.
Ordering Information PART NUMBER PACKAGE TAPE & REEL PKG. NO.
EL2003CN 8-Pin PDIP - MDP0031 EL2003CM 20-Pin SOL - MDP0027 EL2033CN 8-Pin PDIP - MDP0031
Pinouts EL2003 EL2003 EL2033 (8-PIN PDIP) (20-PIN SOL) (8-PIN PDIP)
TOP VIEW TOP VIEW TOP VIEW 1 CAUTION: These devices are sensitive to electrostatic discharge; follow proper IC Handling Procedures. 1-888-INTERSIL or 321-724-7143 | Intersil (and design) is a registered trademark of Intersil Americas Inc. Copyright © Intersil Americas Inc. 2003. All Rights Reserved. Elantec is a registered trademark of Elantec Semiconductor, Inc. All other trademarks mentioned are the property of their respective owners.