Datasheet MAX912, MAX913 (Analog Devices)
Fabricante
Analog Devices
Descripción
Single/Dual, Ultra-Fast, Low-Power, Precision TTL Comparators
Páginas / Página
11

/

1

— Single/Dual, Ultra-Fast, Low-Power. Precision TTL Comparators. …

Formato / tamaño de archivo
PDF

/

1.1 Mb
Idioma del documento
Inglés
Single/Dual, Ultra-Fast, Low-Power. Precision TTL Comparators. MAX912/MAX913. General Description. Features. Ultra Fast (10ns)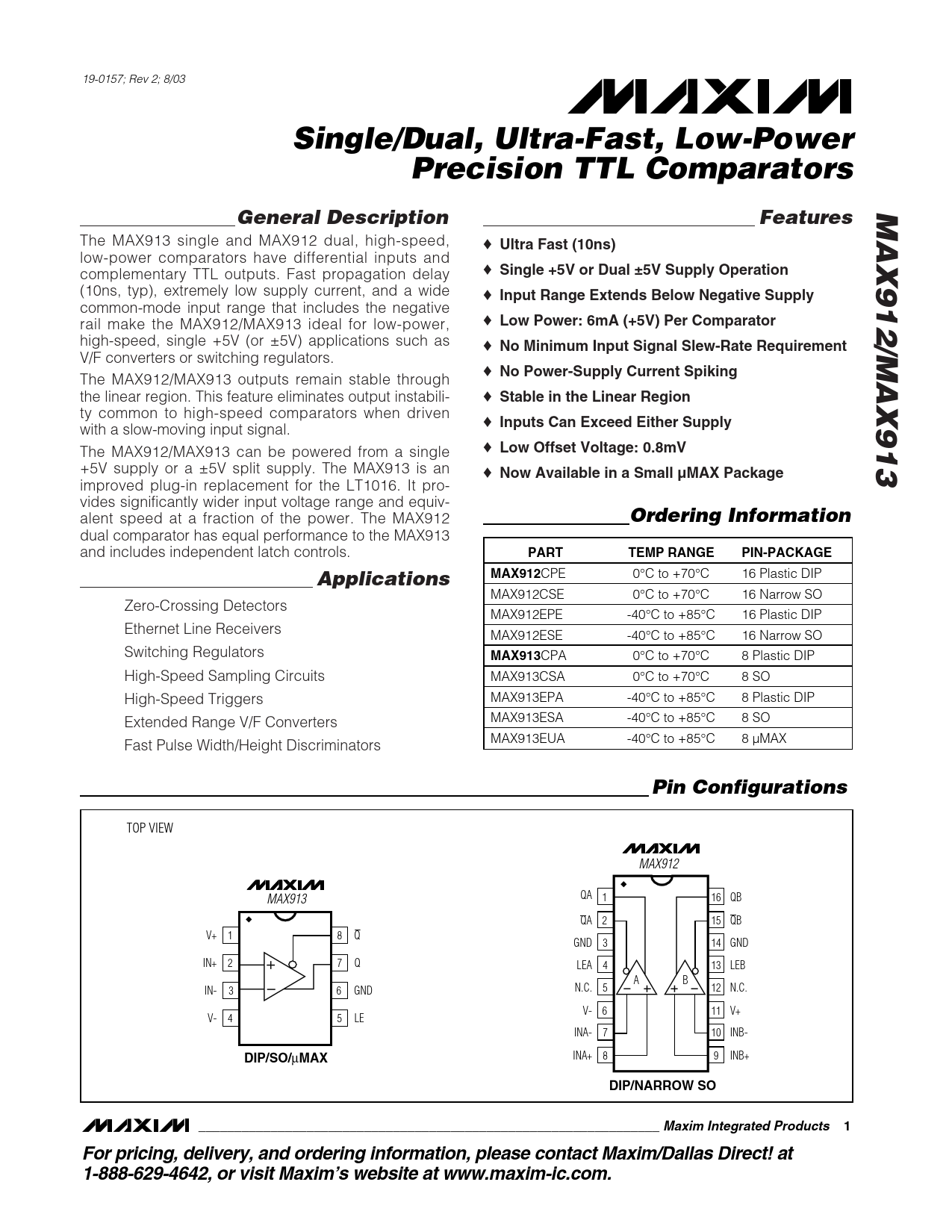 Línea de modelo para esta hoja de datos
Versión de texto del documento
19-0157; Rev 2; 8/03
Single/Dual, Ultra-Fast, Low-Power Precision TTL Comparators MAX912/MAX913 General Description Features
The MAX913 single and MAX912 dual, high-speed, ♦
Ultra Fast (10ns)
low-power comparators have differential inputs and complementary TTL outputs. Fast propagation delay ♦
Single +5V or Dual ±5V Supply Operation
(10ns, typ), extremely low supply current, and a wide ♦
Input Range Extends Below Negative Supply
common-mode input range that includes the negative rail make the MAX912/MAX913 ideal for low-power, ♦
Low Power: 6mA (+5V) Per Comparator
high-speed, single +5V (or ±5V) applications such as ♦
No Minimum Input Signal Slew-Rate Requirement
V/F converters or switching regulators. ♦
No Power-Supply Current Spiking
The MAX912/MAX913 outputs remain stable through the linear region. This feature eliminates output instabili- ♦
Stable in the Linear Region
ty common to high-speed comparators when driven ♦
Inputs Can Exceed Either Supply
with a slow-moving input signal. The MAX912/MAX913 can be powered from a single ♦
Low Offset Voltage: 0.8mV
+5V supply or a ±5V split supply. The MAX913 is an ♦
Now Available in a Small µMAX Package
improved plug-in replacement for the LT1016. It pro- vides significantly wider input voltage range and equiv- alent speed at a fraction of the power. The MAX912
Ordering Information
dual comparator has equal performance to the MAX913 and includes independent latch controls.
PART TEMP RANGE PIN-PACKAGE Applications MAX912
CPE 0°C to +70°C 16 Plastic DIP MAX912CSE 0°C to +70°C 16 Narrow SO Zero-Crossing Detectors MAX912EPE -40°C to +85°C 16 Plastic DIP Ethernet Line Receivers MAX912ESE -40°C to +85°C 16 Narrow SO Switching Regulators
MAX913
CPA 0°C to +70°C 8 Plastic DIP High-Speed Sampling Circuits MAX913CSA 0°C to +70°C 8 SO High-Speed Triggers MAX913EPA -40°C to +85°C 8 Plastic DIP Extended Range V/F Converters MAX913ESA -40°C to +85°C 8 SO MAX913EUA -40°C to +85°C 8 µMAX Fast Pulse Width/Height Discriminators
Pin Configurations
TOP VIEW MAX912 MAX913 QA 1 16 QB QA 2 15 QB V+ 1 8 Q GND 3 14 GND IN+ 2 7 Q LEA 4 13 LEB A B IN- 3 6 GND N.C. 5 12 N.C. V- 6 11 V+ V- 4 5 LE INA- 7 10 INB-
DIP/SO/
µ
MAX
INA+ 8 9 INB+
DIP/NARROW SO ________________________________________________________________ Maxim Integrated Products 1 For pricing, delivery, and ordering information, please contact Maxim/Dallas Direct! at 1-888-629-4642, or visit Maxim's website at www.maxim-ic.com.